Research article: El acceso a los servicios bancarios en España: el impacto de la reducción del número de oficinas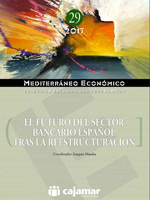 Author: Joaquín Maudos
Title: El acceso a los servicios bancarios en España: el impacto de la reducción del número de oficinas
Source: Mediterráneo Económico
Abstract: The number of branches of deposit takers in Spain has gone down by 32% from the maximum level reached in 2008, right when the crisis started. Although the need for the adjustment made is indisputable, it is interesting to ponder on one of its side effects, such as accessibility to financial services by the people. This has been precisely the aim of this work, which quantifies by provinces the change from 2008 to 2015 in the percentage of the populatin with no access to the branch of a bank in the town where they live. The results show that, although the population that resides in municipalities without bank offices has increased by 20%, the adjustment of installed capacity had had a reduced impact, since it only represents 0.4% as a percentage of the population. At present 2.4% of the population of Spain cannot physically access the banking services of a banking office in their place of residence. At the provincial level, the impact of the crisis on financial accessibility has also been uneven, with a range of population variation ranging from 0% to 25.4%. Although savings banks have adjusted their network the most since 2008, the impact on financial accessibility is very small, since the population residing in municipalities where there are only savings bank office and banks of bank foundations has only increased by 126,000 people. Specifically, in 2015, 2.2% of the Spanish population has access to an office in their place of residence thanks to a savings bank or bank foundation, compared to 0.7% and 0.4%, that they have access through a credit union or a bank, respectively. The significant increase in online banking penetration that has taken place in Spain in recent years is good news that can counteract the negative effects of the intense closure of branches that has taken place since 2008.
View article
Recommended citation:
Maudos, J. (2017): "El acceso a los servicios bancarios en España: el impacto de la reducción del número de oficinas", Mediterráneo Económico, 29, marzo, pp. 265-286.