Press room
The Press Room gathers information which might be of interest to journalists and a non-specialised public about the diverse areas of research the Ivie works in.
In this section, press releases and other dissemination materials which have been developed to present the work undertaken at the Ivie, as well as its main results, can be consulted. A list of keywords is also included, which will give the general public a better understanding of the research areas the Ivie specialises in.
If you would like to be kept informed on the updating of the information available in the Press Room, the Ivie offers an automatic information service in RSS format and you can follow us on Twitter.
If you would like to contact the press service, you can write to
or call +34 96 319 00 50.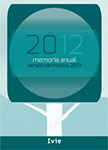 The adapted version of the Ivie 2012 annual report for the media pdf (in Spanish), Flash (in Spanish) contains information about what the institute does, who its researchers are and what research projects are being carried out. This brief document also includes the study presentations of 2012 and those scheduled for 2013.
Last update: May 2013